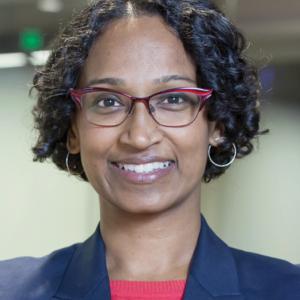 Assistant Professor in Population Health Sciences
Contact Information:
Sudha Raman, PhD, is an Assistant Professor in the Department of Population Health Sciences at Duke University School of Medicine. Trained as a physical therapist, she completed her PhD in epidemiology at the University of North Carolina at Chapel Hill, integrating both pharmacoepidemiology and injury epidemiology methods. In her research, she applies epidemiological methods to study health outcomes, mitigate the potential impacts of confounding factors, and lead large database research projects. She currently focuses on systematically evaluating the quality and fitness of using real-world data (e.g. EHR and claims data) for epidemiological research in both observational and clinical trial research projects. In addition to using real-world data to study health service patterns and the safety and effectiveness of medications, Dr. Raman is leading several substantive projects that look at the epidemiology and implementation of opioid prescribing guidelines and substance use disorder treatment in community and medical settings.