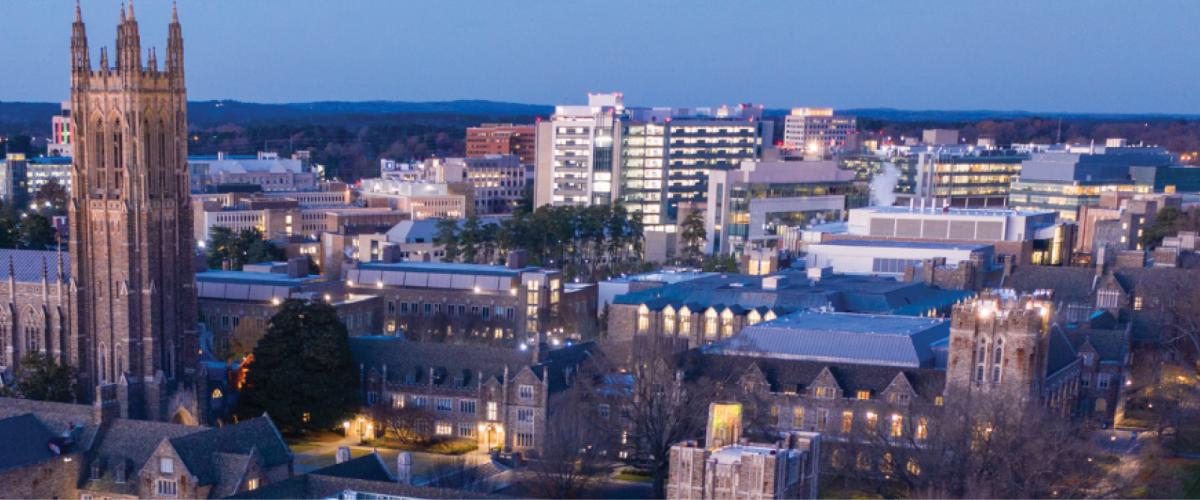 Applications will be evaluated on a number of criteria, with a focus on the quality of the candidate's research interests, alignment with population health sciences, and fit with a primary mentor within the department. 
Application Deadline
2023-2024 Application Deadline: November 30, 2023 
The application for the Ph.D. in Population Health Sciences is now open. Please apply online through the Duke Graduate School.
Application Requirements
FAQs
The application for the Population Health Sciences Ph.D. cohort will open in August each year and can be submitted through the Graduate School. Please be sure to review your application prior to submission. All application materials should be sent directly to the Graduate School and not to the department.
Applications are due by November 30, 2023. 
Besides why you are applying to a graduate program, specifically one at Duke University, we are looking primarily for a commitment to a research career in population health, and research interests that align with those of a faculty mentor. You should also include descriptions of prior education and research experience. The specifics of these areas are up to you.
The department staff and faculty cannot read, edit, or advise on any application material prior to its submission.
The PhD in Population Health Sciences is a quantitatively and methodologically rigorous program; students will take courses that rely on prior knowledge of statistics and mathematics. All PhD students must have experience equivalent to the core MS courses (or year 1 of the DPHS Master's program). This includes coursework or work experience in research methodology; a minimum of two semesters of statistical methods, including use of at least one programming language; and prior coursework or work experience relevant to population health topics. Except in very unusual circumstances, this will be obtained through a prior master's degree.
Faculty receive a very high volume of emails from prospective PhD candidates, and are thus unable to reply to each inquiry they receive. If you wish to contact a faculty member, please be prepared for an absent or very delayed reply (in other words, do not wait to submit your application until you have received a response). The Admissions Committee and the Education leadership take great care and thought in making sure all PhD applicants who are offered admission have a strong match with a faculty advisor.
We encourage applicants to contact Education leadership or staff with questions, or to attend one of our Virtual Information sessions. Please visit our faculty webpage to learn more about our faculty and their areas of research.
All submitted applications will be reviewed by the DPHS Admissions Committee. This committee is comprised of both department faculty and staff members, who have extensive experience in the field of Population Health. These individuals include faculty from multiple various research areas, staff from different departmental groups, and at least one representative from the DPHS Diversity, Equity, and Inclusion Committee. Selected candidates will be asked to complete a virtual interview with several committee members prior to a decision being reached.
All application decisions will be released in Spring 2024 for the next application cycle. Duke Graduate Admissions is the only office authorized to release the official decisions. Decisions will be released through email notification only. Additional information may be found on the Graduate School's admissions website.
GRE test scores are optional for the 2023-2024 admissions cycle.
The department reviews all applications holistically, which means no single element of an application (e.g., test scores) will automatically eliminate a candidate from consideration, nor guarantee them admission. The Graduate School Admissions office has a comprehensive list of Frequently Asked Questions regarding test scores, which we encourage you to review.
No. DPHS staff and faculty are NOT authorized to review any application materials prior to their submission, including any standardized test information, nor are they authorized to confirm your eligibility for any waivers. If you believe you qualify for an IELTS/TOEFL/DuoLingo English test waiver, you may indicate so in your Graduate School application. Please direct any questions regarding IELTS/TOEFL/DuoLingo English tests to the Graduate School admissions office. You may also review a comprehensive list of Frequently Asked Questions regarding standardized tests here.
No. Any issues or questions regarding your application materials should be directed to the Graduate School Admissions office, who oversee receipt and processing of all application materials. Prior to application submission, DPHS staff and faculty are not authorized to review application materials or make any decisions regarding their acceptability.
The School of Medicine and the Department of Population Health Sciences hold as a central tenet that diversity and inclusion are key drivers of institutional excellence and amplify our capacity for innovation and solving complex problems. The department takes seriously its responsibility to recruit and retain students that exemplify a diversity of backgrounds, life experiences, and perspectives. We strongly encourage applications from traditionally underrepresented minorities, those from disadvantaged backgrounds, and those with disabilities. Duke offers the following resources in that regard: