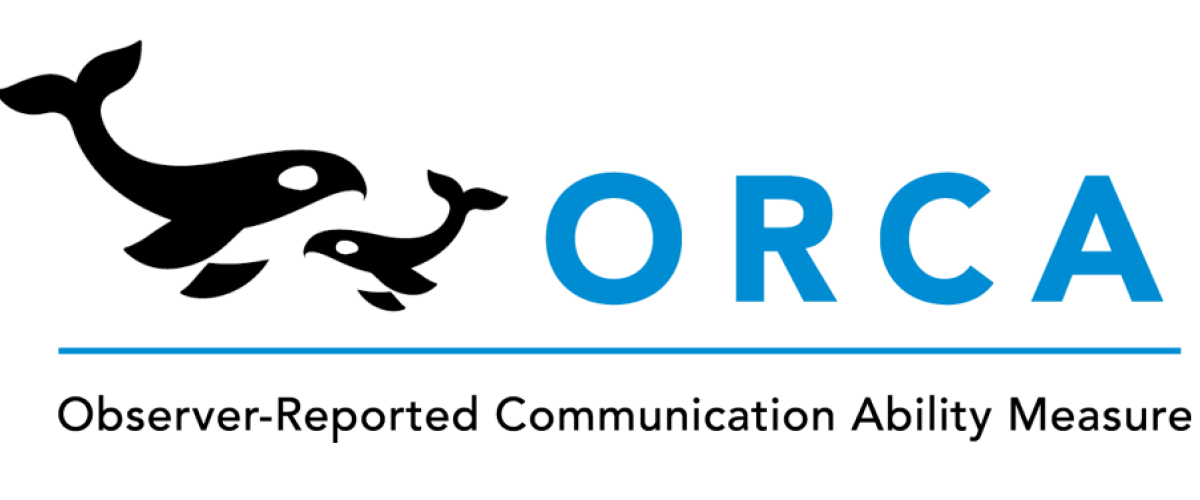 What is ORCA?
The ORCA Measure is a questionnaire that assesses the communication ability of individuals with neurodevelopmental disorders that significantly impact verbal speech. The intended use of the ORCA measure is to assess an individual's baseline communication ability level and subsequent changes in communication ability over time in a research study. The measure consists of 84 total questions with 70 behavioral items within 22 concepts/functions (e.g., refuse object, make choices) that cover expressive, receptive and pragmatic areas of communication, alongside a set of 14 descriptive items that capture important information about the individual's unique ways of communicating (e.g. modalities the individual uses, their current vocabulary, and language complexity). The questionnaire is designed to be completed by the primary caregiver who is most familiar with the individual and the ways they communicate. The descriptive items follow skip logic, so it is possible not every caregiver will complete every question.
The ORCA Measure is currently available in English with language translations in:
Arabic Israel
Dutch Netherlands
English Australia
English Canadian
English UK
French Canada
French France
German Germany
Hebrew Israel
Italian
Polish Poland
Portuguese Portugal
Russian Russian Federation
Spanish Spain
Spanish USA
Turkish Turkey
The ORCA Design
The ORCA measure's content was developed using rigorous quantitative methods and qualitative interviews with parents of individuals with Angelman syndrome (AS) and by communication specialists (e.g., speech-language pathologists) who treated individuals with AS and other developmental communication disorders. The team developed questions from the caregiver's perspective and the questionnaire's target population was any AS individual (of any genotype) aged 2 years or older (including adults with AS). The ORCA was purposely designed to be inclusive of all modalities (i.e. ways of communicating)—meaning that an individual's ability is scored whether they use gestures/signs, words, assistive technology, or a combination of these to communicate.
The ORCA measure was originally developed for Angelman syndrome and has also been validated in Rett syndrome. Currently, the ORCA measure is being evaluated for 12 other rare neurodevelopmental disorders, including: SYNGAP1-related intellectual disability, STXBP1-related disorders, Hunter syndrome (MPS-II), Phelan McDermid syndrome (PMS), Malan syndrome (NFIX), SCN2A-related disorders (SRD), SETBP1 haploinsufficiency disorder (SETBP1-HD), Schinzel-Giedion syndrome (SGS), HNRNPH2-related disorders, Bosch-Boonstra-Schaaf optic atrophy syndrome (BBSOAS), GRIN2B-related neurodevelopmental disorder, and Hao-Fountain Syndrome (USP7). The ORCA measure may be applicable to other similar neurodevelopmental disorders. Ideally, these should be populations where most individuals are nonverbal or communicate primarily through modalities other than spoken words. If you are interested in using the ORCA measure in a population other than AS or Rett syndrome, please click here for more information and guidance.
The scoring approach for the ORCA measure is different from many other clinical outcome assessments by design, and reflects the unique complexities of communication ability. Thus, the ORCA measure cannot be scored by hand, and an accompanying SAS macro must be used. R can also be used to run the macro. For researchers who do not have the ability to use SAS or R statistical software programs, a free scoring feature is available through the Pattern Health platform. If you are interested in using this feature, please reach out to the Pattern Health team for more information.
Resources
For more information about the ORCA, view our FAQs
Questions? Contact Nicole Lucas
Presentations:
The ORCA measure is free to use for noncommercial purposes (e.g. research and education). The ORCA Measure is a copyright Duke University. Pattern Health is the exclusive authorized distributor of the ORCA Measure. If you are interested in obtaining a license to use the ORCA measure, please fill out a license request form.
Accepted Publications 
Reeve, Bryce B., et al. 'Validation of the Observer-Reported Communication Ability (ORCA) Measure for Individuals with Rett Syndrome'. European Journal of Paediatric Neurology, Elsevier, https://doi.org/10.1016/j.ejpn.2023.07.007.
Zigler, Christina K., et al. 'Exploring Communication Ability in Individuals With Angelman Syndrome: Findings From Qualitative Interviews With Caregivers'. American Journal on Intellectual and Developmental Disabilities, vol. 128, no. 3, Apr. 2023, pp. 185–203, https://doi.org/10.1352/1944-7558-128.3.185.
Zigler, Christina K et al. "Validation of the Observer-Reported Communication Ability (ORCA) Measure for Individuals With Angelman Syndrome." American journal on intellectual and developmental disabilities vol. 128,3 (2023): 204-218. doi:10.1352/1944-7558-128.3.204.
Study Team